Buppert's is well known in Carroll County Maryland for our fresh, home grown fruits, vegetables and healthy annuals and perennials.

The Buppert family has been farming in Marriottsville, Maryland since 1951 when the land was purchased by Doran and Helen Buppert. From the beginning the farm was a traditional farm with livestock, hay, grain, and produce. Over the years as the community grew, the demand for local, fresh produce grew. From our first "market" table on the lawn, we have sought to bring fresh and high-quality produce and healthy flowers to our neighbors. We also strive to educate our customers about stewardly agricultural and garden practices.

Make sure you come out to the farm and see what's growing at Buppert's. Fresh fruits, vegetables and flowers are available throughout the season. Support Local Agriculture.

Our farming methods focus on natural and sustainable agriculture,

CLICK HERE

to read more about our methods.





All fruits and vegetables are available in quantities for canning. Please call ahead for availability and to place an order.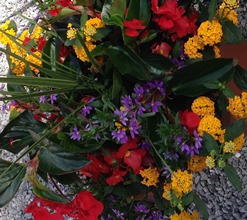 Spring / Early Summer
FLOWERS!
Annual Bedding Plants- Impatiens, Petunias, Begonias, Marigolds,
Snapdragons, Zinnias, Melampodium and Many More!
Hanging Baskets
Geraniums
Perennials- Daisies, Bleeding Hearts, Peonies, Black Eyed Susans, Many More!
Vegetable Plants for the home gardener including Heirloom Tomatoes
Herbs - Cilantro, Basil, Catnip, Chamomile, Lemon Balm, Sage, Rosemary, Thyme and much much more.
Gardening Supplies
Bagged Mulch, Leaf Gro Soil Enhancer, "Chesapeake Blue" Organic Fertilizer, Rich Top Soil, Composted Manure
April / May / June

Tomatoes
Potatoes
Squash / Zucchini
Onions
Peppers
Dried Flowers
Fresh Cut Herbs
(varieties change during season)

"Went there for my first time and will ALWAYS get my produce here. Staff was super friendly and the potatoes, corn and peaches were all DELICIOUS!"
-- Facebook Review

July / August

Sweet Corn
Tomatoes
Peppers
Cucumber
Squash / Zucchini
String Beans
Eggplant
Onions
Peaches
Nectarines
Watermelons
Cantaloupe
Cherries
Blueberries
Blackberries
Fresh Pressed Cider
(No Preservatives)

September / October / November

Sweet Corn
Tomatoes
Broccoli
Collards
Kale
Brussel Sprouts
Winter Squash
Zucchini
Cabbage
Cauliflower
Apples (varieties change during season)
including Red Delicious, Golden Delicious, Honey Crisp, Pink Lady, Gala, Empire, Macintosh, Styman & Winesap
Pears including Bosc, Bartlett & Asian Pears
Fresh Pressed Cider

Always Available At Buppert's
Local Honey from Honey Harvest Farm - Providing pure, local raw honey that is healthful as nature made it. The honey is warmed just enough to strain through cheesecloth keeping B-Vitamins, small bits of pollen and trace minerals present.
Farm Fresh Eggs from The Hen's Nest
McCutcheons products including: Apple Butter & Fruit Butters, Ciders & Fruit Juices, Preserves & Jellies,
Salad Dressings & Baking Mixes, Hot Sauces, Sugar Free Fruit Spreads, Pickles & Relishes
Michele's Granola handmade with all-natural ingredients
Fisher's Popcorn
| | |
| --- | --- |
| | |
| Rows of Crops | Buppert's Original Homestead |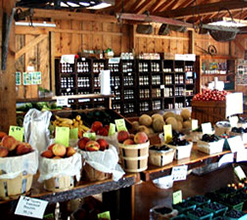 The store also carries a great selection of blooming planters, herb gardens and local handmade pottery.
During the fall Buppert's has wagon rides to the Pumpkin Patch for pick your own pumpkins. Back at the market enjoy our picnic & teepee area, meet our family of pygmy goats or explore our corn maze. This makes Buppert's a perfect place to bring groups of children whether it's a daycare, preschool, grade school or youth group, they can accommodate them all.
On Sundays in the fall wagon rides will also be available for families.

Call ahead for times and to schedule your group ride.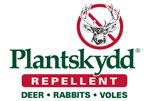 Having critter problems? We are excited to offer an organic, non-toxic product that is safe for use in protecting fruit, vegetables and other food products against browse damage. Not harmful to pets or the environment. Effective for deer, elk, rabbits, voles and other small critters! We use this on a large commercial scale but now it's also available for the home gardner.

CLICK HERE for more info