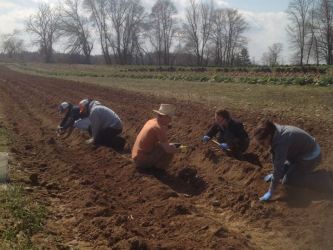 Locally grown and produced food for local people
The Buppert family has been farming in Marriottsville, Maryland since 1951 when the land was purchased by Doran and Helen Buppert. From the beginning the farm was a traditional farm with livestock, hay, grain, and produce. Over the years as the community grew, the demand for local, fresh produce grew. From our first "market" table on the lawn, we have sought to bring fresh and high-quality produce and healthy flowers to our neighbors. We also strive to educate our customers about stewardly agricultural and garden practices.
Our farming methods focus on natural and sustainable agriculture:
In order to reduce the need for chemical fertilizers and manage weeds and pests as responsibly and naturally as we are able
• Plant cover crops to naturally fix nitrogen into the soil
• Regularly test soil and apply lime to maintain a healthy soil pH
• Rotate crops to maintain healthy soil nutrient levels and break pest life cycles
• We use biodegradable and natural pest management applications. Many of the products we use fall under organic certification.
• Use the MDA Integrated Pest Management (IPM) program to minimize spray applications.
In order to reduce erosion and prevent it from entering our waterways:
• Rows of crops are mulched which also provides natural weed management and contour our fields
• Buffer zones of trees, shrubbery, and other vegetation line our waterways
In order to reduce water consumption:
• Low flow watering heads in our greenhouses
• Drip irrigation on selected crops only when it is absolutely necessary

"My experience today was magnificent. From the moment you walk in you feel welcomed and at home. The staff was was knowledgeable and very friendly. Their homemade pickles and apple Butters are to die for. And, I won't even start on the homemade apple cider OMG!! If you're looking for great quality and excellent produce this is the place for you!! You won't be disappointed!! "
-- Google Review.